Valentine's Day is right around the corner and I know as a Mom, I am left scrambling for ideas on what to put in their little bags. Yes, I am one of those Moms. The ones who like to acknowledge each little holiday with an added something to make the day special. My husband claims I am spoiling them BUT to each their own. My babies won't be babies forever. If you're looking for a few ideas on what to put into your little Valentine's bag, then you've come to the right spot!
Ooly 
Ooly is one of my top favorite craft supply companies. Their products are always of great quality and child-friendly in design and color. Some of my favorite items from Ooly include: 
We Craft Box
We Craft Box is a subscription-based craft box that is delivered right to your doorstep with everything you need to complete the crafts enclosed. You can expect an intriguing story enclosed with directions that ensure all the pieces fall into sync and tie together in a positive manner. My kids and I love sitting down on a rainy day and getting to work on our We Craft Boxes. That's right, OUR We Craft Box.
We Craft Box recently launched an adult version of their craft box. So now I don't have to miss out on the fun! No two craft boxes are the same so you can expect a new idea every month. 
I also really like how We Craft Box usually has enough supplies for more than one child to complete a component of the crafts enclosed. There's also enough supplies to store extra for another rainy day.
Easy Read Time Teacher 
The Easy Read Time Teacher is perfect for teaching your little ones how to tell time. Whether it's in the classroom, the playroom, or for everyday use – the Easy Read Time Clock has been a huge help for my kids! I received the EasyRead 35cm Classroom Clock with a rainbow face as well as the tell-the-time cards. The tell-the-time game cards made all the difference in teaching time. 
Whistlefritz Bilingual DVD's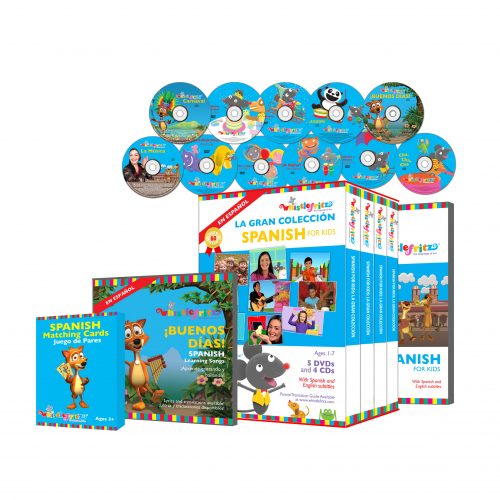 While I try to actively limit my children's screen time, I am not always perfect at it. I do however push content that has an educational purpose behind it. Studies have shown that bilingual individuals are more likely to be successful educationally and considering my children's father is of Mexican descent, being bilingual is extremely important to me. Give your little one the gift of language while listening to a catchy tune or watching Whistlefritz intriguing cartoons. Whistlefritz has won over 114 awards for their content and you can find their DVD's and other educational content in French or Spanish! 
What items will you be giving your little love on Valentine's Day?