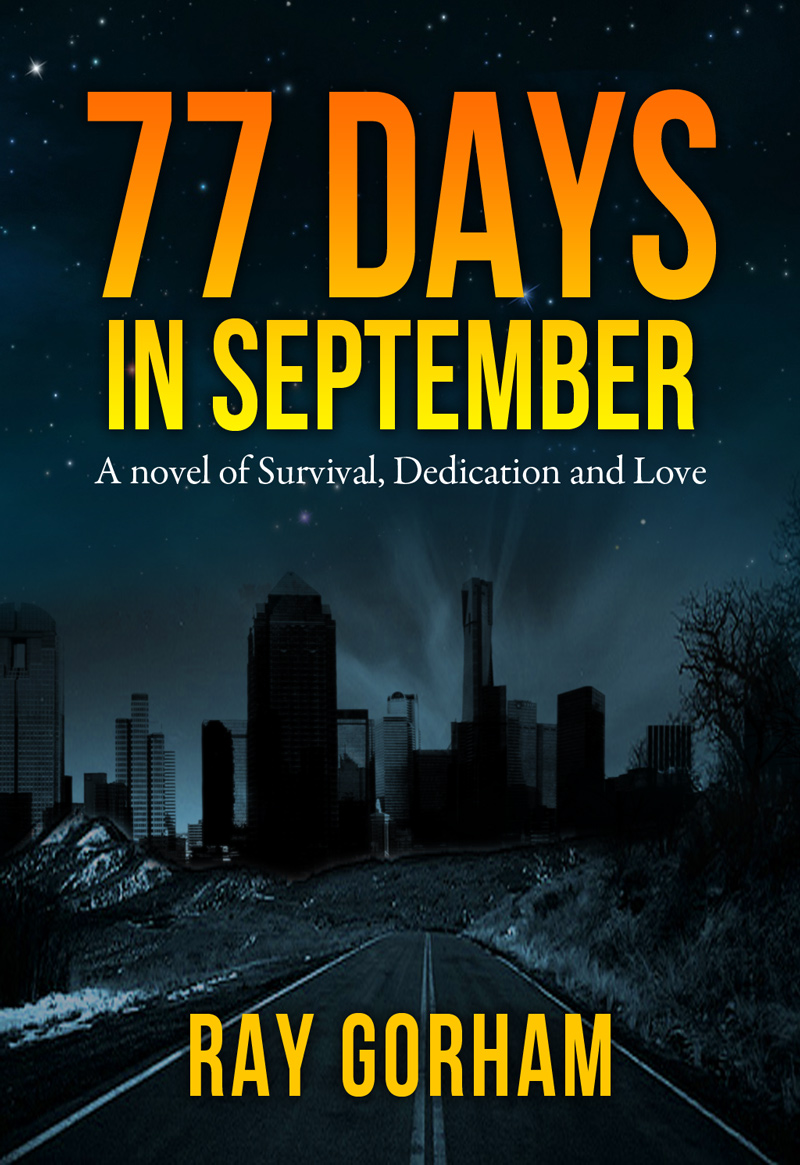 77 Days in September
By Ray Gorham
On a Friday afternoon before Labor Day, Americans are getting ready for the holiday weekend, completely unaware of a long-planned terrorist plot about to be launched against the country. Kyle Tait is settling in for his return flight home when a single nuclear bomb is detonated 300 miles above the heart of America. The blast, an Electro-Magnetic Pulse (EMP), destroys every electrical device in the country, and results in the crippling of the power grid, the shutting down of modern communications, and bringing to a halt most forms of transportation.
Kyle narrowly escapes when his airplane crashes on take-off, only to find himself stranded 2,000 miles from home in a country that has been forced, from a technological standpoint, back to the 19th Century. Confused, hurt, scared, and alone, Kyle must make his way across a hostile continent to a family he's not even sure has survived the effects of the attack. As Kyle forges his way home, his frightened family faces their own struggles for survival in a community trying to halt its own slow spiral into chaos and anarchy.
Based on scientist's predictions of what would happen if a single nuclear bomb is detonated over Kansas, 77 Days in September follows Kyle and his wife, Jennifer, as they are stretched past their breaking point, but find in their devotion to each other the strength to persevere.
Have you ever read a book and the story just sticks with you when you aren't reading it and even after you finished it? I found 77 Days in September to be just that. My eyes have been opened.
I wasn't sure what to expect with 77 Days in September as I have never heard of EMPs. About one third of the way into the book, I told my husband about it. I told him that I am reading a book about a terrorist attack, the terrorists use a nuclear bomb 300 feet in the air. My husband knew exactly what I was referring to.
While 77 Days in September is fiction, I believe it is very much a possibility. I want my family to be prepared, especially after reading this book.
How far would you go to be reunited with your family? What are you willing to endure just to see your family again?
Follow Kyle Tait on the journey of his life to reunite with his family. Jennifer Tait is caring their three children while trying to protect them and herself. They are forced to tackle their own obstacles on their own. Kyle finds the occasional help while on trek and Jennifer has their neighbors to confide in.
This book is about family, love, life, and tears. Not only will you get lost in this book, it will definitely make you appreciate your family.

Disclosure of Material Connection: An ebook was provided tome by the author for review. No payment was received by me in exchange for this review nor was there an obligation to write a positive one. All opinions expressed here are entirely mine and may not necessarily agree with those of the author, the book's publisher and publicist or the readers of this review. This disclosure is in accordance with the Federal Trade Commission's 16 CFR, Part255, Guides Concerning the Use of Endorsements and Testimonials in Advertising.